Trademark Registration in Aligarh
Trademark Registration in Aligarh
Internationally famous for its high-quality locks, higher education, and brass hardware, Aligarh has been a major and notable recipient of the trademark services of our Delhi-based and internationally renowned IPR law firm, for nearly a decade. Here, only our swift and impeccable service for trademark registration in aligarh is described, which has been the most popular among these.
Well-resourced and highly innovative, our IPR law firm offers updated and efficient legal services for all major and most popular categories of intellectual property to Indian and international clients engaged in various economic fields in India and abroad. Each category is given the full gamut of services for creation, registration, maintenance, and well-rounded protection. As far as our trademark services are concerned, covered are registrations of trademarks and service-marks, tm renewal services, trademark prosecution services for diverse objectives, trademark opposition, trademark infringement litigation, watch and monitoring for constant trademark protection, and hiring and acquisition of registered trademarks and service-marks.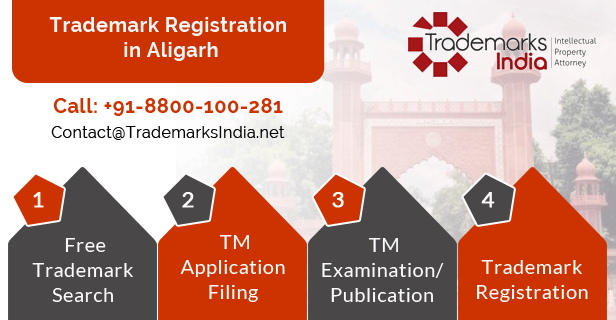 How to Register a Trademark in Aligarh as per New TM Rules 2017?
To register a trademark/service-mark in India as per the new trademark rules 2017, an applicant located in Aligarh, needs to get the following tasks done perfectly:
Devising a distinctive and unique trademark/service-mark, and selecting the appropriate trademark class or classes for registration thereunder of the same.
Carrying out a thorough trademark search across Indian trademark databases to get certainty regarding indisputable uniqueness of the same. Our trademark lawyers conduct free trademark search to help its clients.
Online trademark application filing in new Form TM-A, with the regional intellectual property office of New Delhi.
The Form TM-M may now be filed for requesting expedited processing of the application for registration.
Tasks like responding to and satisfying the trademark examiner/registrar, offering prosecution for registration, and quenching any trademark opposition, may also be required.
Brand Name and Logo Registration for your Company, Products/Goods and Services in Aligarh
Manufacturers and exporters located in this one of the largest and fast-progressing cities of Uttar Pradesh, may avail our excellent and expeditious services for trademark registrations for doing business in the following economic fields --- a wide range of locks and securing devices, various items of brass and bronze hardware, education and teaching, zinc die castings, metal sculptures, various agricultural goods and products, and many other fields of the manufacturing sector.
Situated at around 150 Km southeast of New Delhi, thus Aligarh is well-facilitated by our hugely popular and prestigious IPR law firm of Delhi, for brisk and best registration of their trademarks and service-marks. Besides being flawless and fast, our trademark registration services are generously charged also. These all facts make our firm one of the most convenient and trustworthy centers in NCR for brand name and logo registration for your company, products/goods and services, relating to anyone or more of the economic fields mentioned above.
To receive our fast and finest service for trademark registration or any other services related with trademarks, people and entities of Aligarh may readily call over: +91-8800-100-281; or send their queries or requests to: Contact@TrademarksIndia.net .