Trademark Registration in Chandigarh
Trademark Registration in Chandigarh Haryana
Our swift and lavish service for trademark registration in Chandigarh Punjab, has been the most popular among ours all IPR services delivered to this wealthiest city of India. All economic fields (mentioned below) of this clean & trim, internationally famous, and fast-thriving city are covered by expert and innovative IPR services of our Delhi-based IPR law firm.
Our refined and cutting-edge IPR services have been internationally commended, and all major categories of intellectual property are served by us, with full-range of legal services for each category. As far as our legal services for trademarks and service-marks are concerned, these services include the following tasks/processes besides the service for trademark registration --- tm renewal services, trademark prosecution services for the desired objectives, trademark opposition, watch and monitoring for trademark protection, trademark infringement litigation, and hiring and acquisition of registered trademarks and service-marks.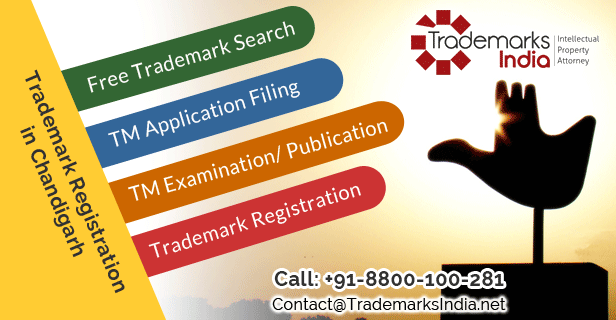 How to Register a Trademark in Chandigarh Punjab as per New TM Rules 2017?
Any entrepreneur or entity situated in Chandigarh, needs to get the following tasks done, to register a new trademark/service-mark in India as per the new trademark rules 2017:
Invention of a new and distinguishing trademark/service-mark, and selecting the most suitable trademark class or classes for registration of the same thereunder.
Ensuring infringement-free uniqueness of the mark through trademark search nationwide. Clients are offered the free trademark search by our vibrant and discerning trademark lawyers.
Making trademark application filing through the new Form TM-A, with the regional trademark registry office of New Delhi.
Applicants in haste, may now (after promulgation of new Trade Marks Rules of 2017) file a request for expedited processing of their registration applications through the Form TM-M.
And, few ancillary tasks like convincing registrability of the filed mark, quenching any trademark opposition, and offering necessary prosecution for perfect registration.
Brand Name and Logo Registration for your Company, Products/Goods and Services in Chandigarh
Individuals and entities of Chandigarh may avail our first-rate and fast services for registration of trademarks and service-marks for engagement and growth in the following economic fields of rich and roaring Chandigarh --- paper, basic metals and alloys, machineries and machine tools, food products, pharmaceuticals, electrical appliances, auto parts, sanitary ware, and in its fast-emerging fields of outsourcing and IT services.
Our trademark services are highly admired for being high in efficiency, fully flawless and responsible, reasonably charged and cheaper, innovative and securing, and upkeeping generous policies for regular and old clients. Thus, for swift and superlative brand name and logo registration for your company, products/goods and services, for the purpose of doing business/service in Chandigarh, entire India, or abroad, our visionary and internationally renowned IPR law firm of Delhi is certainly one of the best choices.
Prompt and convenient accessibility to our fast and first-class trademark services may be availed of just through ringing over: +91-8800-100-281; or darting germane queries or requests at: Contact@TrademarksIndia.net.