Trademark Registration in Delhi
Trademark Registration in Delhi
Our efficient and expert legal services for trademark registration in delhi have been internationally famous and have served numerous so far, and cover perfect registrations of the trademarks and service marks relating to all 45 classes of the Nice classification. All tasks involved in the procedure for registration are performed adroitly by our veteran and innovative trademark lawyers.
Our Delhi-based IPR law firm has been internationally commended for around a decade, and offers the full range of legal services for all main and major categories of intellectual property, both at the Indian and International levels. This webpage offers exclusive information only about our services for Trademark Registration in Delhi, for lavish help to Indian entrepreneurs and entities located in NCR, and also to foreign entities seeking registration and protection of their respective trademarks or service-marks in India. These trademark registration services in delhi are described separately in the lower sections.
Besides trademark registrations, other legal services related with trademarks and service-marks extended by our brilliant and vibrant trademark lawyers are tm renewal services, trademark prosecutions for diverse aims, watch and monitoring for trademark protection, trademark infringement litigations, trademark opposition services, etc. These services are available for all 45 trademarks classes to Indian and international clients.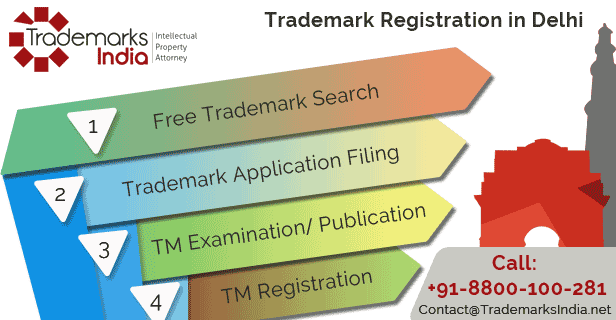 How to Register a Trademark in Delhi as per New TM Rules 2017?
To register a trademark/service-mark as per the new trademark rules 2017 of India, involved are the following main tasks:
Creation of an indisputably unique trademark or service-mark for doing business/services in the specified field.
Ensuring uniqueness of the trademark/service-mark through trademark search across Indian trademark databases. Our prestigious and generous IPR law firm offers the service of free trademark search to help its clients.
Online trademark application filing (in Form TM-A) with the regional trademark registry office of New Delhi.
Answering to trademark examiner/registrar and convincing him regarding proper registrability of the submitted trademark/service-mark in India.
Filing application (in Form TM-M) for expedited processing of the filed application for registration, if the client needs fast-track registration.
Tackling the possible cases of trademark opposition, and offering brilliant and punctual prosecution for the best and brisk registration.
Brand Name and Logo Registration for your Company, Products/Goods and Services in Delhi
Our well-learned, well-seasoned, and highly innovative trademark lawyers are proficient in offering wise advice and expert support for creation of the brand names, logos of companies, and trademarks & service-marks for doing business/service in various economic fields in India and abroad. Hence, our well-resourced IPR law firm is undoubtedly a perfect choice for brand name and logo registration for your company, products/goods and services in new delhi, for doing stable and progressive business/service in the concerned economic fields in India or/and abroad.
It must be noted that logos, trademarks, and service-marks must be distinctly unique, implying vision and objectives of the related company, and scintillating enough to readily catch exclusive attention and publicity in the targeted marketplace. These pieces of intellectual property not only distinguish a company or its products/services, but also represent the image and reputation of the concerned company amid numerous national and multinational companies.
Interested entrepreneurs and entities of India or abroad may avail our top-notch and impeccable trademark services in India (and also abroad), just through contacting over: +91-8800-100-281(Call/WhatsApp); or sending relevant queries or requests at: contact@TrademarksIndia.net.