Trademark Registration in Patna Bihar
Trademark Registration in Patna Bihar
According to many reputed organizations including World Bank, rapidly growing Patna is one of very suitable cities of India at present for setting up businesses. Innovative IPR services of our Delhi-based law firm have been hugely popular in Patna for past many years. Of these, the service for 'trademark registration in patna' has been the most popular.
Our ingenious and impeccable IPR services have been rather famous nationwide in India and internationally also, for past many years leading nearly a decade. Full gamut of legal and advisory services is available with us for every major and most popular category of intellectual property, to help Indian and foreign people and entities. This full range of services for trademarks and service-marks covers the following services/tasks ---- trademark registration services, tm renewal services, prosecutions services for the desired objectives, trademark opposition services, trademark infringement litigations, services for well-rounded trademark protection such as watch and monitoring, and hiring and acquisition of the registered trademarks/service-marks.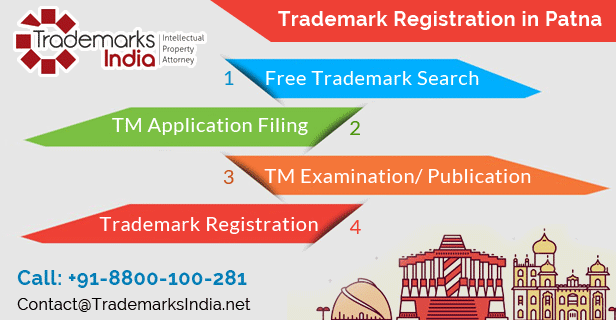 How to Register a Trademark in Patna as per New TM Rules 2017?
Any ambitious entrepreneur or economic entity of Patna has to complete the following processes or tasks, to register a new trademark/service-mark as per the new trademark rules 2017, for doing business/service in entire India:
Generating a new and striking trademark/service-mark, and then selecting the perfect trademark class for registration thereunder of the same, based on the Nice classification.
Checking and verifying clear individuality of the mark through trademark search across trademark databases of India. Offered is free trademark search by our lawyers to help clients.
Making trademark application filing in the new Form TM-A, with the regional trademark registry office of Kolkata.
Applicants desirous of seeking expedited processing of their applications for registration, may now file a request for the same in the Form TM-M.
Other likely tasks could be proving registrability of the make, quenching any trademark opposition, and offering prosecution for proper registration.
Brand Name and Logo Registration for your Company, Products, Goods and Services in Patna Bihar
For expert and efficient trademark application filing in patna, our trademark lawyers of rich service-expertise and international fame, have been rather popular in almost all economic fields (mentioned below) of this largest city and the capital of Bihar. Hence, for perfect and swift brand name and logo registration for your company, products/goods and services, our prestigious IPR law firm of Delhi is surely one of the best choices.
Today, Patna, which is regarded as one of the fastest growing cities of India, and also as one of the hugely suitable cities of India for business establishments, has the following well-established and fast-emerging economic fields --- various agricultural goods and products; FMCG; trading; tourism; hospitality and entertainment; education & teaching; luxury goods; computer hardware and software; and diverse services.
To utilize our first-rated and affluent legal services for trademark registration in Patna, or any other IPR services, people/entities of India or abroad may swiftly ring over: +91-8800-100-281; or send their queries or requests to: Contact@TrademarksIndia.net .