Trademark Registration in Pune Maharashtra
Trademark Registration in Pune Maharashtra
Industrially fast galloping and internationally famous for higher & technical education and automobiles, Pune has been a hugely popular and preferred client of our Delhi-based IPR law firm, for past many years. Our magnificent service for trademark registration in pune maharashtra, has propelled business/service of its numerous institutions and industries so far.
Our well-learned, well-seasoned, and innovative intellectual property lawyers cover all main and most popular categories of intellectual property with complete gamut of legal services. During last one decade, they served myriads of entrepreneurs, companies, and firms located in India and abroad. Here, only the service for trademark registration in pune has been described. Our other services related with trademarks and service-marks are the following ---- trademark opposition services; tm renewal services; trademark prosecution services for the desired purposes; trademark infringement litigations; sale and purchase of registered trademarks and service-marks; and many services for well-rounded trademark protection, such as trademark watch and monitoring.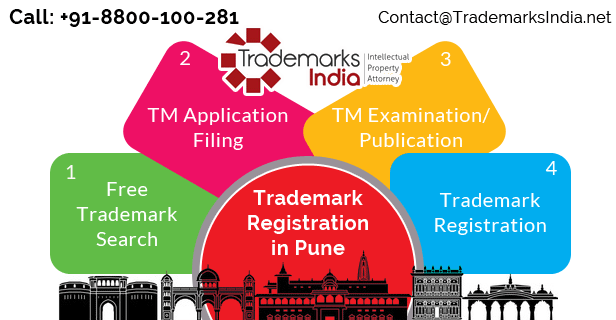 How to Register a Trademark in Pune as per New TM Rules 2017?
An individual or economic entity of Pune will have to complete the following processes, to register a new trademark or service-mark as per the new trademark rules 2017, for doing business/service at the national-level in India in the field concerned:
Inventing a new and distinctly different trademark/service-mark, and allotting the perfect trademark class to the same, as per the Nice classification.
Checking and being ensured about infringement-free uniqueness of the mark, through trademark search across all trademark databases in India. To fasten the process, we conduct free trademark search on behalf of our clients.
Online trademark application filing in the new Form TM-A, with the regional trademark registry office of Mumbai.
Request for expedited processing of the application at all stages up to the registration, may now be filed through the Form TM-M.
Other likely tasks could be meeting requirements for registrability of the mark, disposal of any trademark opposition, and persuading prosecution for impeccable registration.
Brand Name and Logo Registration for your Company, Products, Goods and Services in Pune Maharashtra
As cosmopolitan Pune is the second largest city in Maharashtra, with a rapidly growing population and economy, our internationally famous IPR law firm of India delivers expeditious and expert IPR services to its ambitious people and entities, essentially including the trademark registration services for its all economic fields mentioned below.
Today, for trademark application filing in pune, the following economic fields are rather progressive and hence most suitable ---- Technical and non-technical higher education; automobiles; scientific research and innovation; IT and ITES; real estate; hospitality and entertainment; glassware; engineering and manufacturing; and many other well-established fields of the sectors of manufacturing and services. Hence, for perfect and prompt brand name and logo registration for your company, products/goods and services, our well-resourced and well-experienced IPR law firm of Delhi is certainly one of the best options.
Percipient and innovative entrepreneurs and entities located in Pune may ping over: +91-8800-100-281; or send their queries or requests to: Contact@TrademarksIndia.net; for harnessing our first-class and efficient services for trademark registration in India or abroad.